Fender.com

/ Fender.com eCommerce & Brand Marketing
Design Director:
Andrew Seles
Designers:
Rob Goerke, Miad Mokhtarian, Hsin Chen, Riley Swift
About
The best way to experience everything described below is to just check out the site at Fender.com
One of the first major projects I lead at Fender was the redesign of Fender.com. We redesigned the core UI/UX and migrated site content from two CMS platforms (marketing content from Demandware and editorial content from WordPress) into a more flexible, user-friendly CMS (Contentful). This opened up content management to new areas of the org. It was a massive undertaking on an aggressive timeline. The homepage was redesigned to balance new product introduction with a stronger emphasis on marketing and editorial content to better drive SEO and engagement.

Everything has been designed and built to be fully responsive as traffic increasingly trended towards at least 50% mobile screen sizes. An emphasis was placed on reusability, creating a system of modular components which can populated with content and arranged in infinite combinations to create unique layouts to support the brand for years to come.

In the years following that initial launch have seen steady, regular improvements to the site experience with incremental feature updates to increase engagement and conversion, such as the introduction of Quick View functionality form Product Listing Page product grids and new payment options such as PayPal and Klarna financing:

2016 also saw the introduction of Fender Mod Shop, a joint effort between Fender and a vendor providing customers with the ability to customize build options and build the instrument of their dreams. Since the initial launch, the program has been wildly successful with a steady addition of features and options, supported and promoted by the modular design: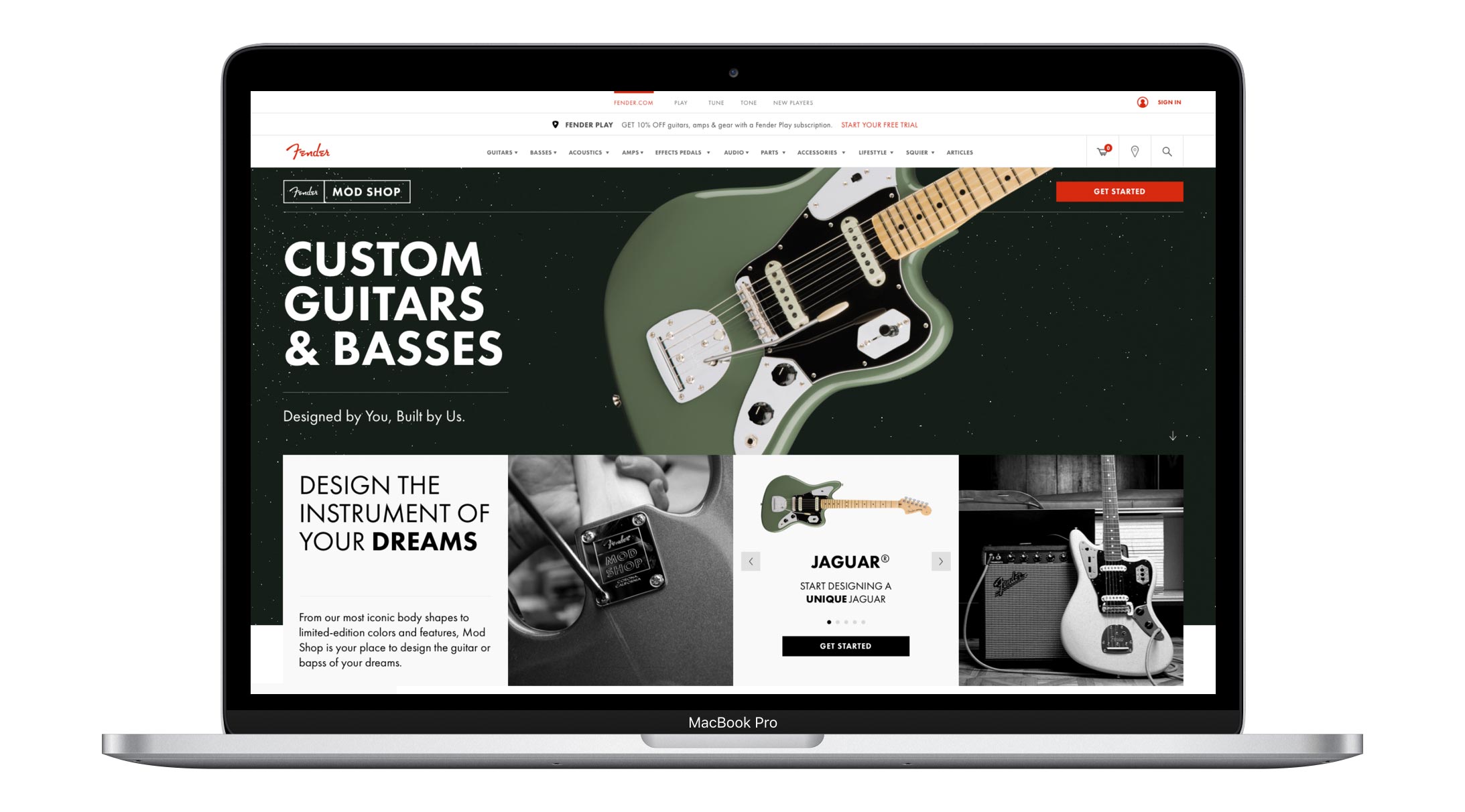 The intervening five years have seen a steady growth in eCommerce revenue and shift in focus from marketing content to more product driven, direct to consumer shopping experience. 2020 saw exponential growth in the eCommerce channel and record sales across all channels, with 2021 set to exceed expectations yet again.